[ About the fuxbau ]
You live at the foot of the Alps (directly to the rise of the Zinnkopf), in a traffic-calmed side street, but in 10 minutes you can walk to the centre of the village. A great mix ratio...
We have built a lockable garage for your car (attention, the garage door has a delivery time and come autumn 2022, meanwhile it's a carport).
About your own staircase you reach your holiday home. On the first floor there is a 15 sqm terrace with all amenities for lying, eating and relaxing ...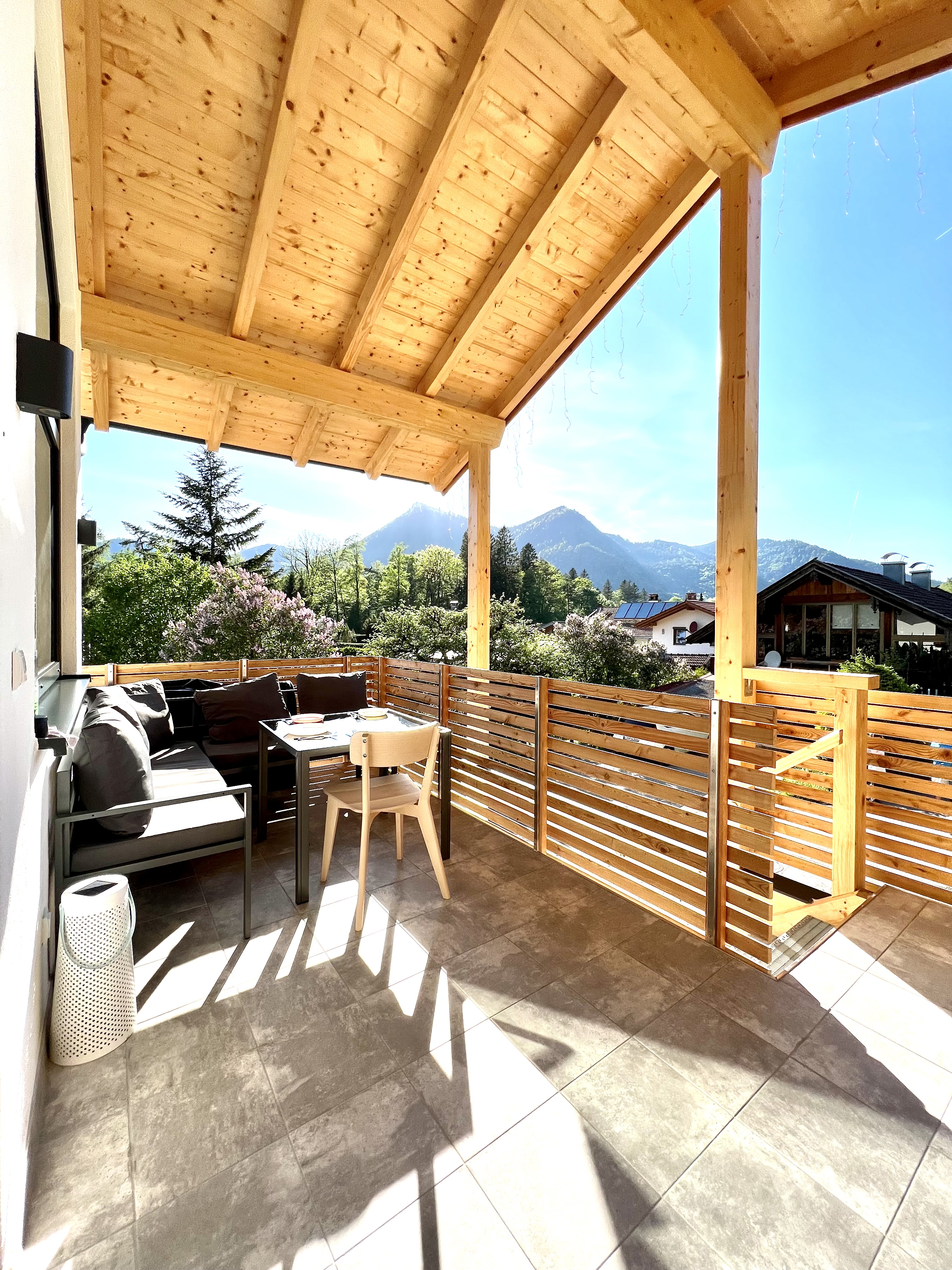 You can make yourself very comfortable in 50 square meters of living space. (Total 2 adults and 2 children plus 1 baby)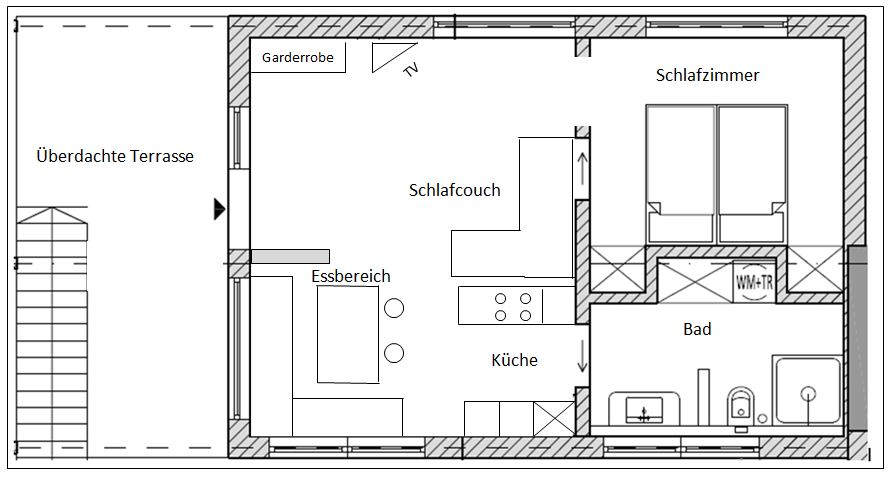 The furniture is mostly made by our carpenter from trees from the Chiemgau region and provided with food-safe natural wax by me. Modern warmth offers you the brand new underfloor heating.
The open kitchen is fully equipped and, by the way, it doesn't matter whether you use it or simply get something from the delivery service ... But if someone packs up, you have an oven, microwave, fridge with freezer compartment and ceramic stove at your disposal with all the stuff that goes with cooking. Should something not be there, please let me know, I live next to you and can certainly help you out.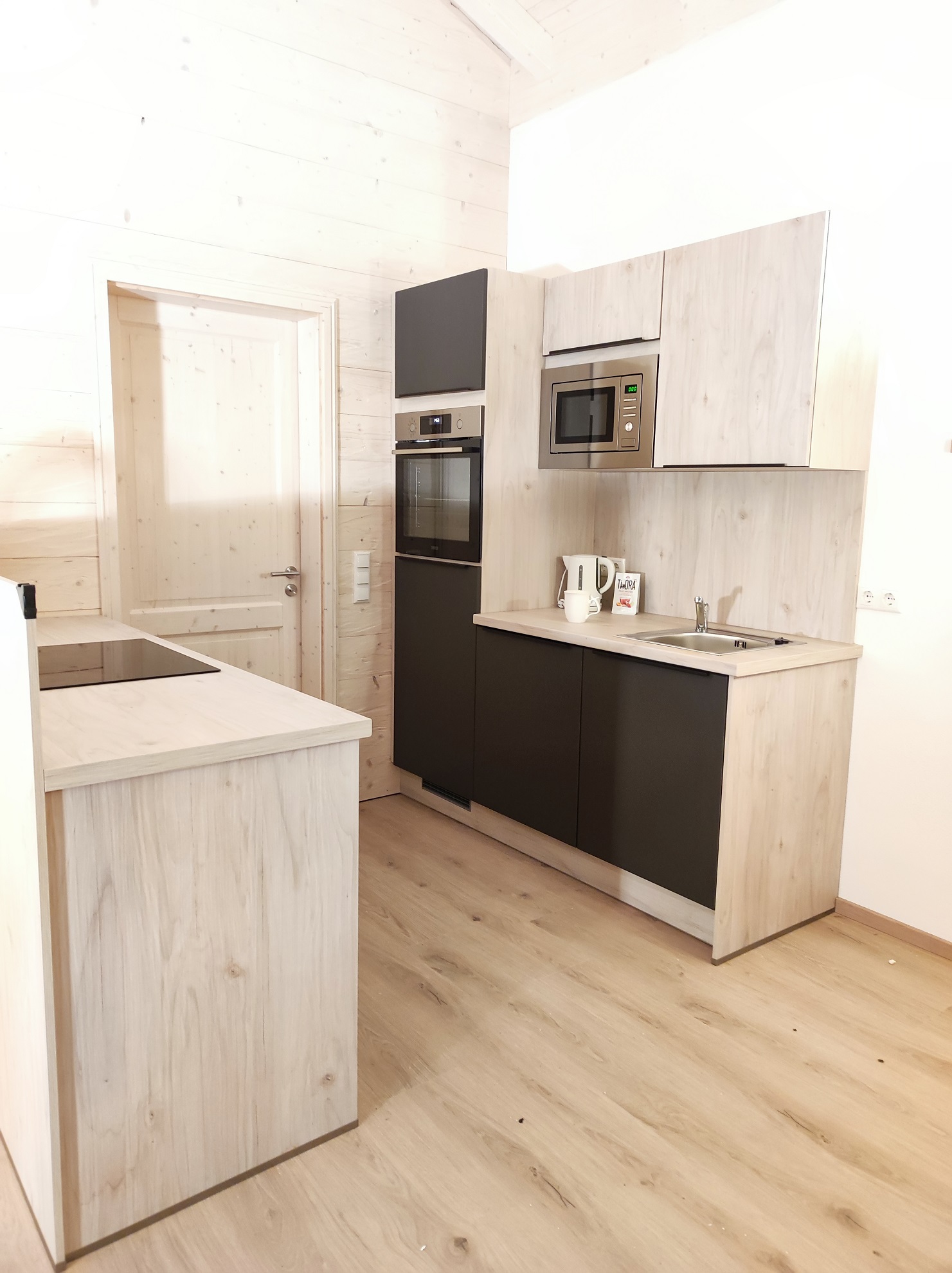 I will be happy to prepare a sofa bed (1,35m x 2m) when you travel with your children. If a little baby travels with you, I also have a travel cot for you to borrow. I have to point out that we are not barrier-free, but so you can see the mountains and the sunset better. Of course, we have also thought of a stair gate so that the children have their limited space.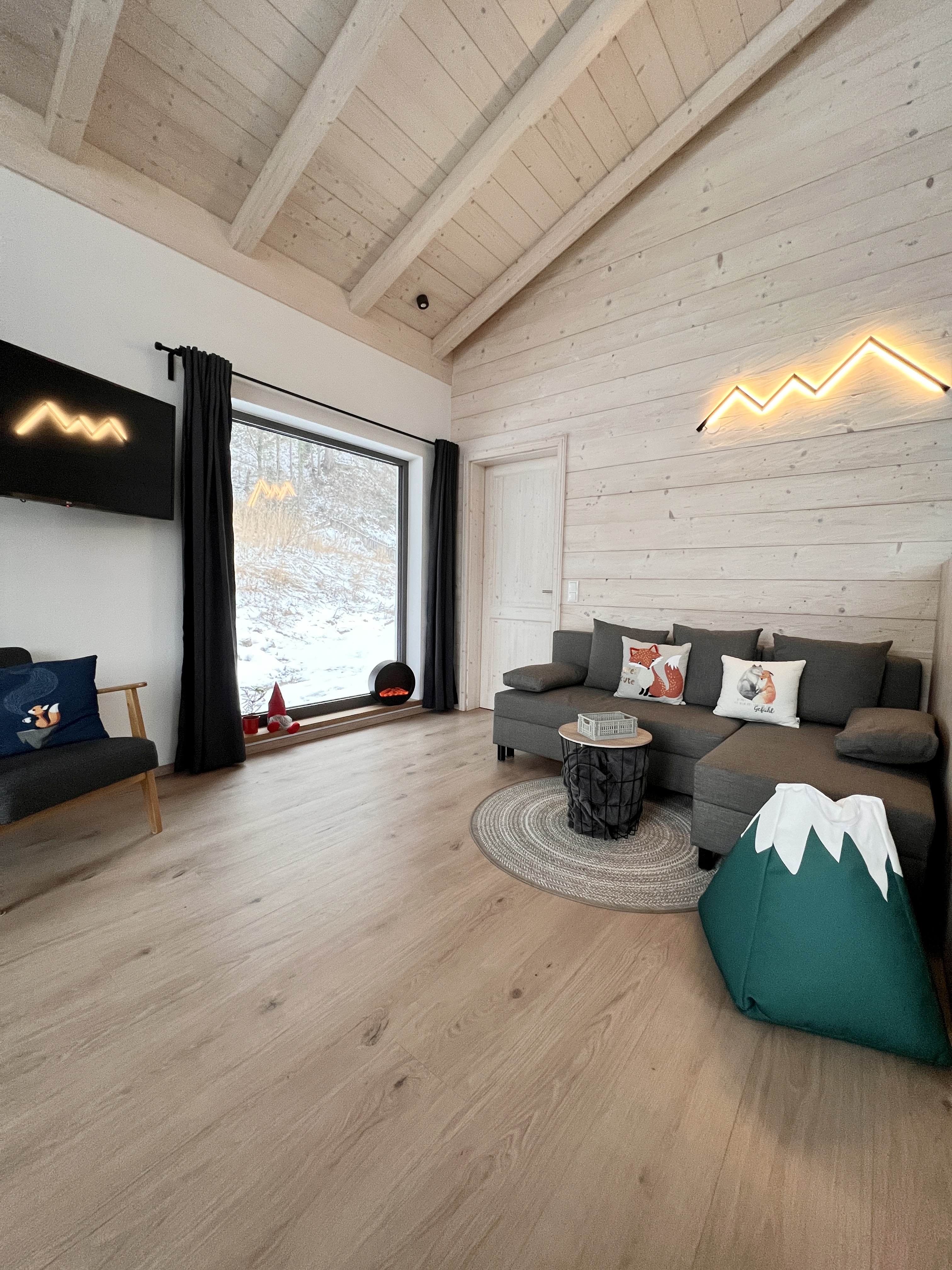 We also welcome single people, singles and couples, but if you come with your family, you can borrow a lot from us. Because I can still remember very well, my husband and I have discussions twice a year, once because of the fairy lights at Christmas (we now have some battery-powered ones) and when we go on vacation. But only since we had children and all that should fit in the car. We can relieve you of the dispute by lending a travel cot, high chair, stair gate, Deuter back carrier, baby monitor, potty, baby bath, bikes and wutsch, games for small and big children and also a Chariot bike carrier that can also be a buggy. The sockets are automatically installed with child safety locks.
We point out that the entrance area outside is monitored for your safety with a camera.
Here a picture of the stuff you can borrow:-)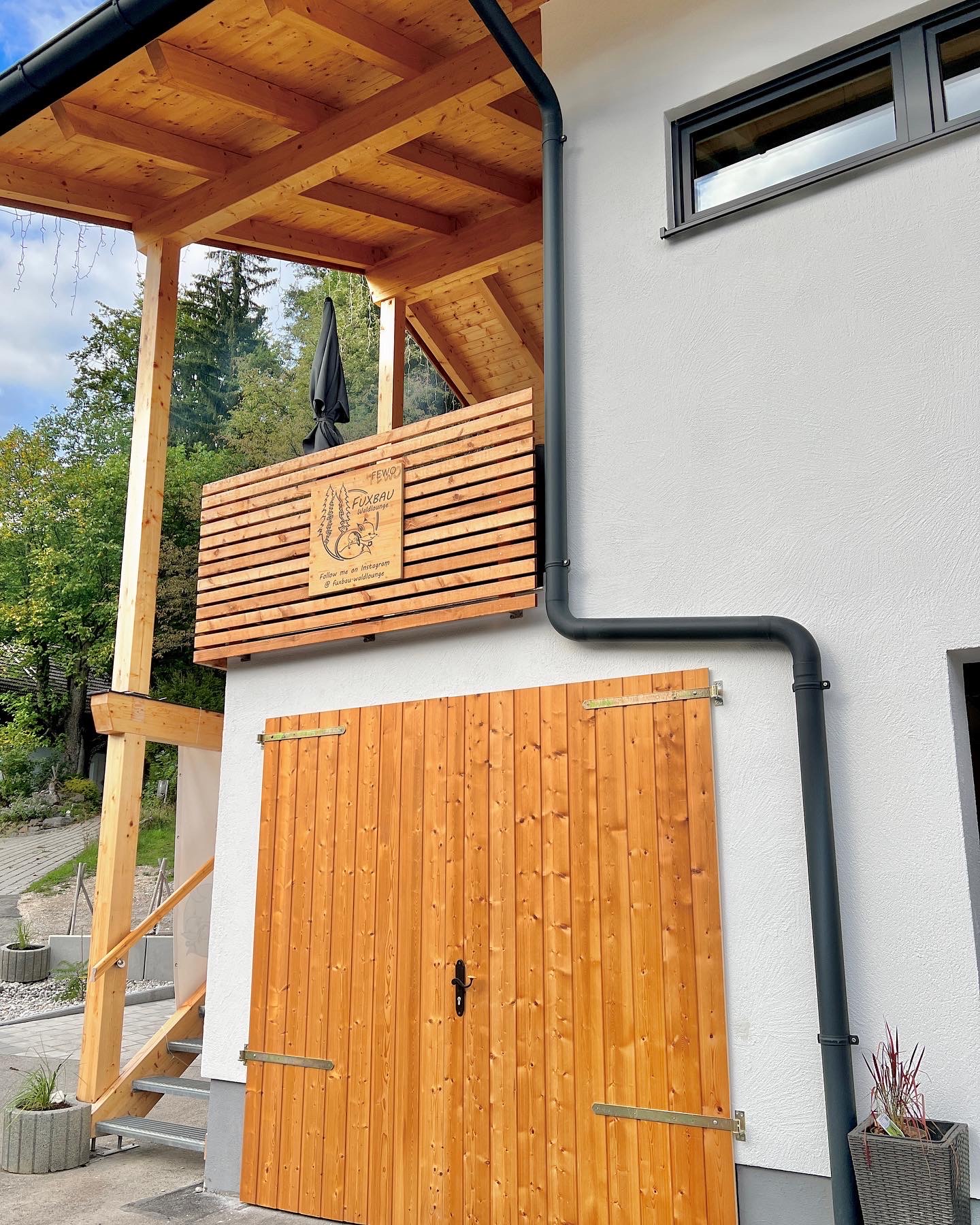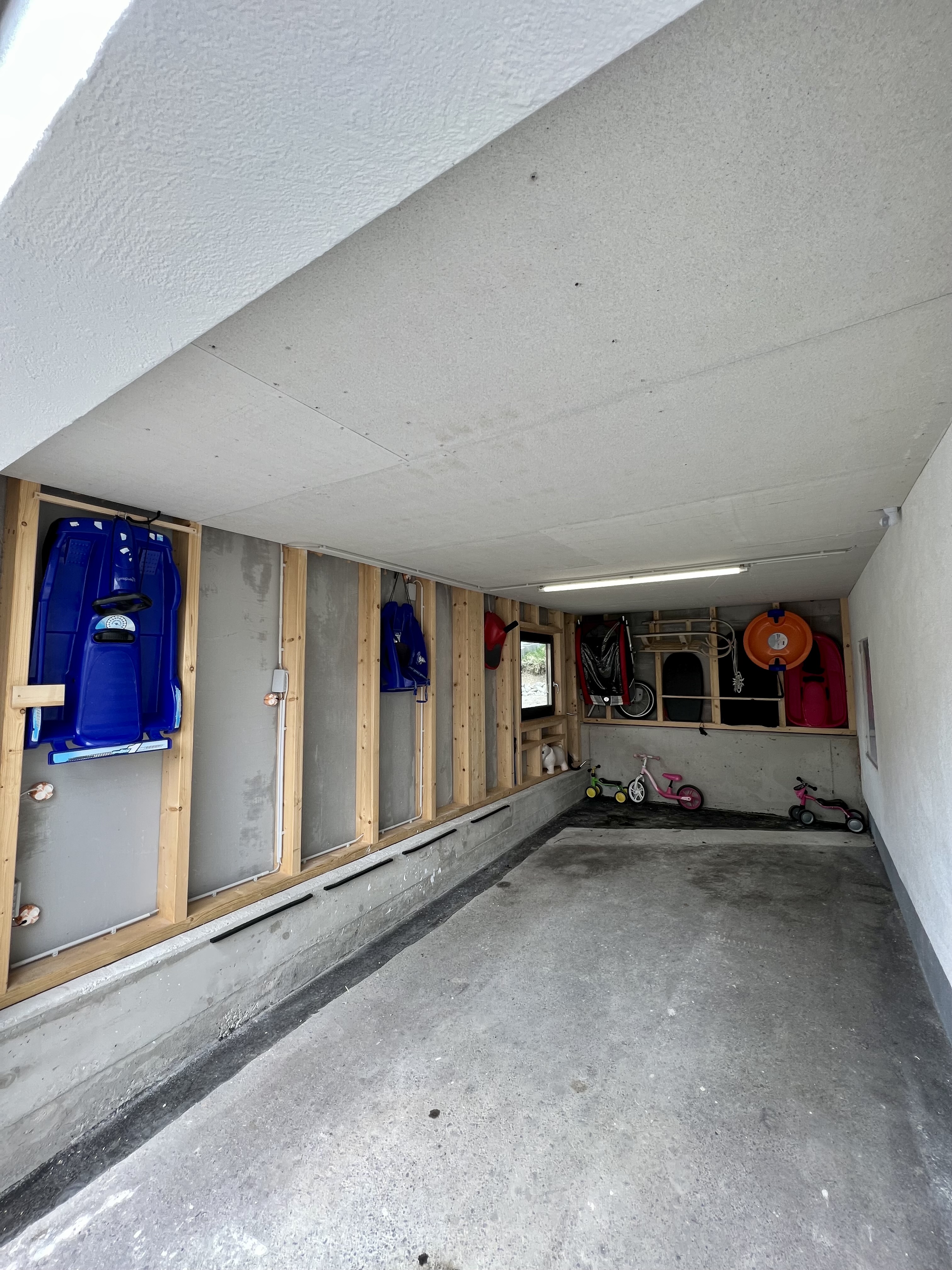 Dear pet owners, we remain allergy-friendly from the start, so it stays with people in the house. Speaking of allergies, I bought allergy-friendly bed linen and towels, if you need something special, please let me know, I may be able to help you.
In addition, we clean with effective microorganisms, if you are interested in the sustainable topic, just talk to me.

The technology side, takes care of my husband, but I'll list it now, of course we have free WiFi, for example for work and home office and business trips, and various streaming services ( Prime Video, Disney+ and DAZN ) are available to you on the 43 Zoll TV, but you're welcome also register yourself with your account so that the series are ready when you are ready. We also have a bluetooth box so you can listen to your podcasts, children's audiobooks and as well simply music when you get the chance.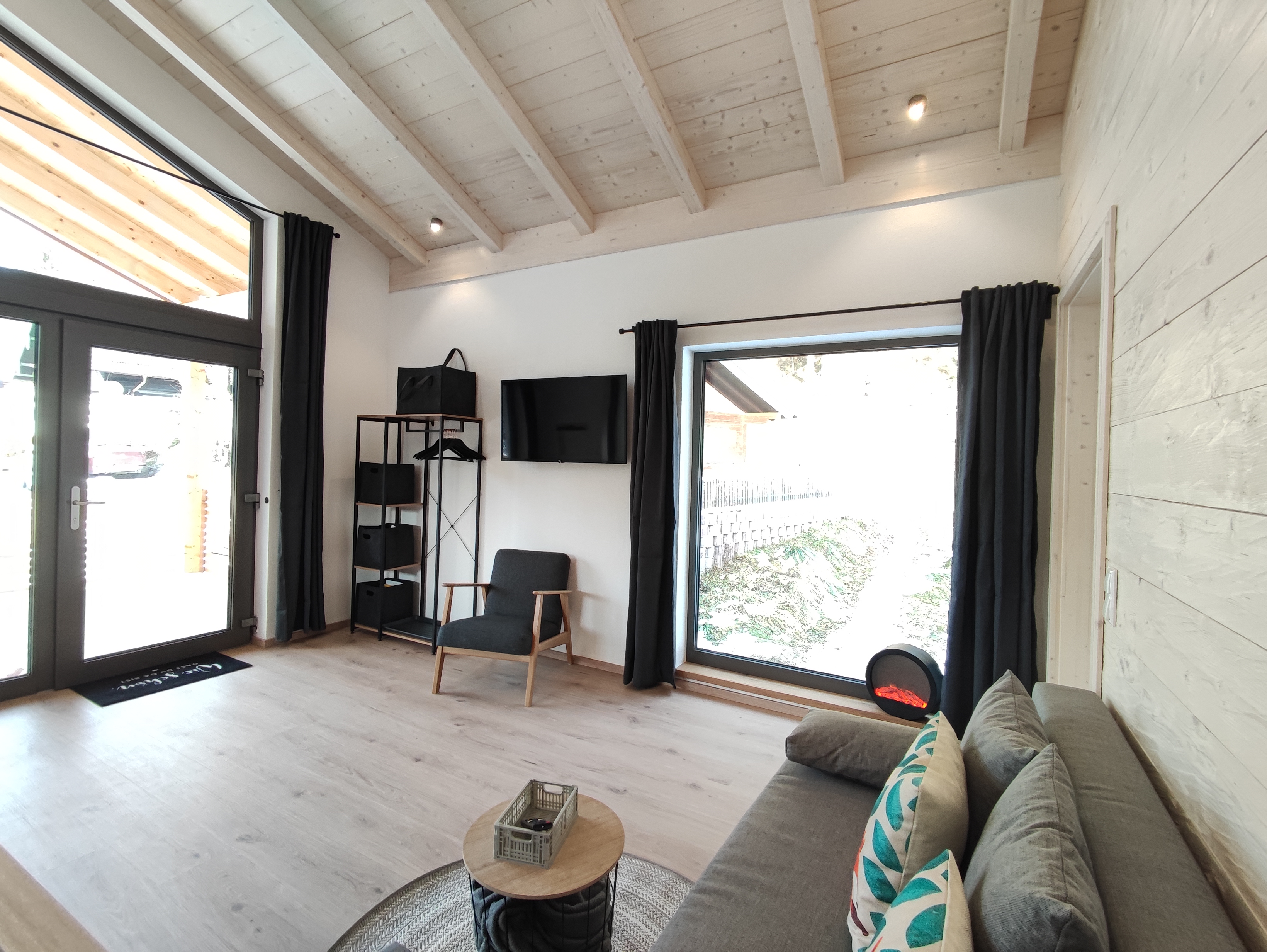 A 24/7 contactless arrival is also possible via a smart key system.
The bedroom was made by our grandpa, its a higher King size bed, once in hardness H2 and H3, and everyone has their own hanging options and drawers for gadgets and technical devices. In addition, we have carpentered and foldable bed on the wall so you can thus conjure up from the bedroom a huge family bed for you and your loved ones, to cuddle and feel closer.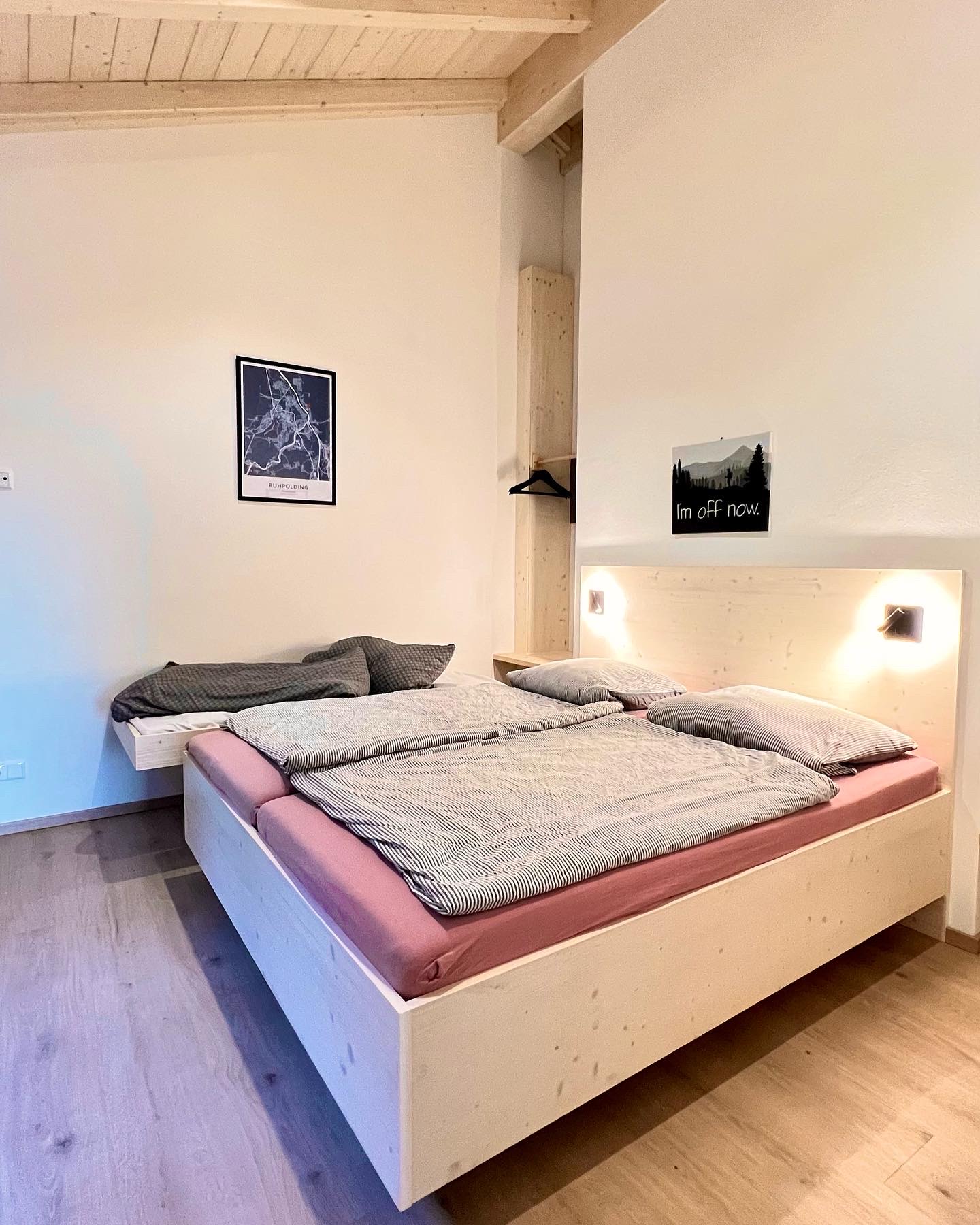 The daylight bathroom has a walk-in shower, a softclose toilet and a washbasin with full length mirror.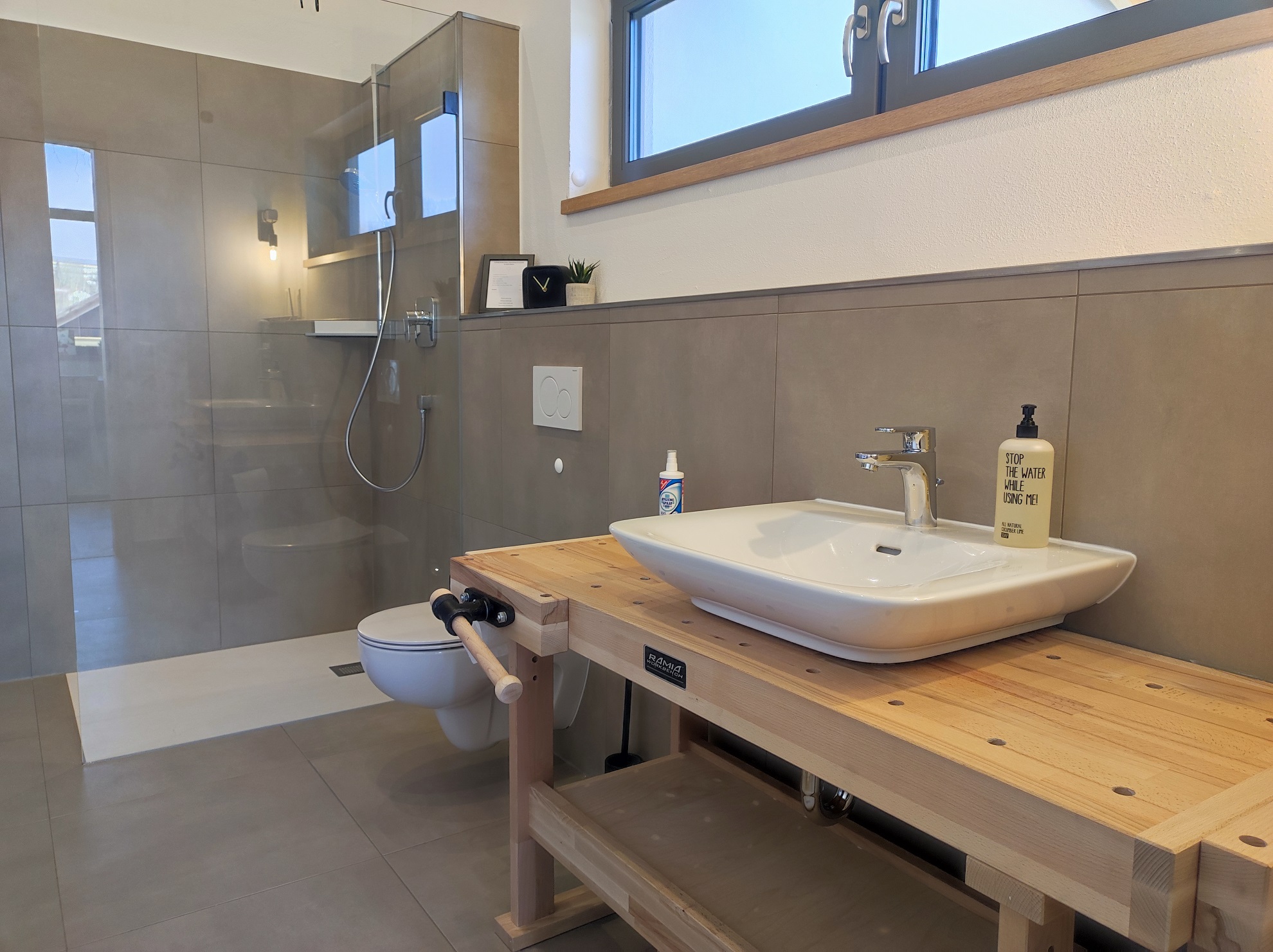 We also offer all the necessary hygiene items such as cleaning utensils, sustainable cleaning agents, dishwasher tablets, washing-up liquid, a battery vacuum cleaner, towels, tea towels, etc.
We also have a heart for athletes, you can store your bikes or skis and much more in the lockable garage, and you will find a few fascia rolls so that you can stretch out after exercising. Last but not least, you can use the washing machine and dryer on request.